Wednesday, April 24, 2013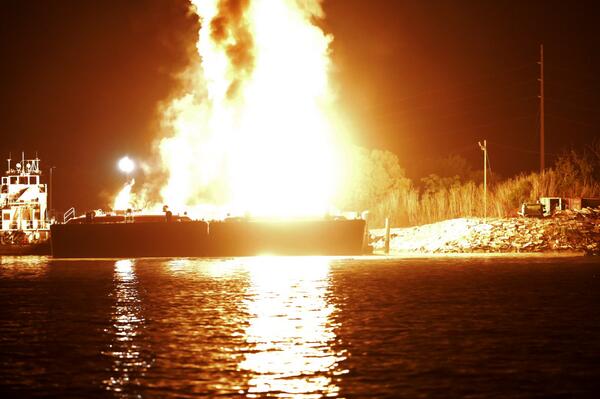 According to RT.com a series of five large blasts on a fuel barge in Mobile, Alabama rocked the area Wednesday night, with an evacuation zone set up around the shipyard. Firefighters have been unable to put out the blaze - which they hope will burn out naturally overnight.
The first blast occurred on a natural gas barge on the east side of Mobile River around 8:30 pm local time. Officials told Fox 10 News that there were no fatalities although some crew members did report burn injuries.The first explosion was followed shortly by four more blasts.
A fourth explosion was reported by Fox 10 news reporter Lenise Ligon amidst scanner chatter amongst firemen that one of the barges may have hundreds of gallons of gasoline still on board.
The fifth and, some reports say, largest barge explosion came over an hour after the first blast and just moments after fire officials told media that a rumbling heard on the scene was the sound of untreated gas building pressure.