Wednesday, April 24, 2013
The bank is getting rid of more than 3,000 jobs, and it doesn't even have the decency to use plain English
Guardian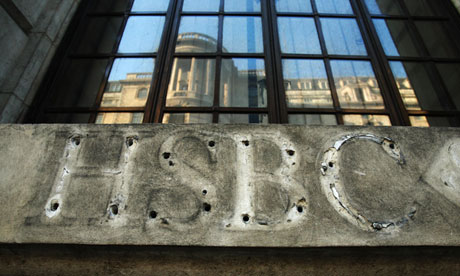 Age: Old. Derived from the Latin mittere, via the Middle French demise.
Appearance: A P45, a pink slip or an empty desk.
AKA: Surplussed, furloughed, unassigned, retrenched, realigned, dehired.
Demised is a euphemism then? Yes. For fired.
Who's been using it? HSBC.
It's firing people?
No, it's demising people. Or demising their jobs, to be precise.
How many jobs is it demising? Just over 3,000.
That's a lot of empty desks. It is. Although a lot of them are due to be filled again soon.
Because they're also "mising" new jobs? Yup. But not quite as many. The bank says it plans to create 2,017 new positions. Which will still leave at least 1,149 people out of work, despite the fact the company posted profits last year of £13.7bn.
Well, we did say we wanted to see fewer bonuses. They also handed out pay packages worth more than £1m to 204 top employees. The jobs being cut are mostly frontline staff.
Ouch. How have the unions responded? They derided the demising as demeaning.
Meaning? Meaning they would probably have preferred more mising.
Right. So to clarify: HSBC is downsizing? Correct. Except no one downsizes any more.
They don't? No, they "rightsize". Or Barclays does, anyway; the bank's finance chief Chris Lucas used the term in February to describe a plan to cut 3,700 jobs.
Sheeesh. What next? Fun-sizing? Super-sizing? Not super-sizing in this economy. But fun-sizing doesn't sound so implausible. Not compared with some of the euphemisms already out there.
Such as? "Synergy-related headcount adjustment", for example. That was the phrase used by Nokia Siemens Networks to describe its plan for around 9,000 redundancies in 2008. Or, in the same year, Yahoo's plan for the company "to become more fit" with a 10% staff cut. Or electric car startup Tesla Motors' description of a round of redundancies as closer adherence to a "special forces philosophy".
What does that mean? At a guess: demising people silently and efficiently.
Do say: "News of my demising has been greatly exaggerated ..."
Don't say: "I've just been synergistically repurposed."